I can't believe I made it! I posted 31 times during the month of October in spite of all the other things I had going on.
So, HAPPY HALLOWEEN from my Zombie Baby!
I actually carried him around to stores today and he got a lot of attention. He even had his photo taken a few times. He already had a cute Halloween onesie but then I found this tiger costume at Goodwill for $1.99. I was just meant to have it.
During this past 31 days, I had really hoped to have crafted more Santas but what I gained by doing research for my blog (on eBay...LOL!) I feel more inspired to get back to creating my own.
I purchased a few Santas that have not arrived and I have really changed the course of my collection from chalkware, hand carved, and resin reproductions of popular Santa artists, to a lot figures.
Here are a few I am waiting to receive:

Santa's Uncle Swede
This little Santa's Uncle Swede Doll measures 12 inches tall. With Stand This cloth sculpture was designed from pattern through finish in the heart of South central Pennsylvania. form #355(7/93). A one of a kind. Hand made collectible. .Hand numbered 2802 .. He carries his sack full of toys.. A perfect addition to your holidays display or for gift giving.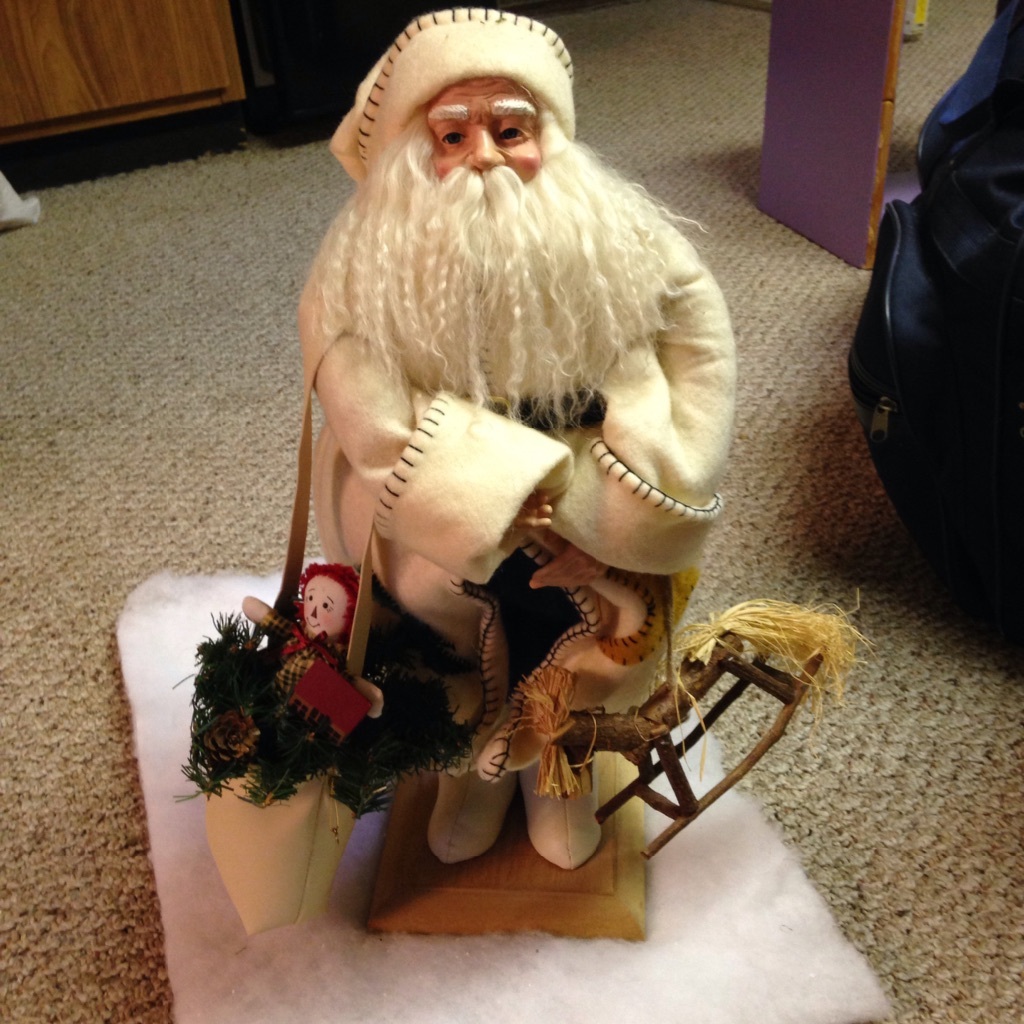 House of Hatten

I bought this lot just for the House of Hatten Santa Sitting on the box.

After I received my Santa designed by Dee Gann, I just had to bid on tis one...
And I won!
Other than three for which I am waiting on an invoice, and a couple I bid on that have not closed out, my goal is NO SANTA NOVEMBER when it comes to buying Santa Claus Figures, Ornaments, Art Work, etc. off eBay.
But that doesn't mean I won't visit my favorite shops locally!
But seriously, I do want to thank all of my new readers as well as my old, and I hope you will continue to follow me as I attempt a new goal...
COUNTDOWN TO CHRISTMAS! Starting November 1st.
I will be still be talking about my Santa Collection and Santa Crafting but will be adding more about my other creative activities during the holiday season.
God Bless Us, Everyone!