There is nothing like trying to write a cheerful blot about the Jolly Ol' Elf when you are feeling rather ill. But I will press on, because i am determined to provide you with 31 days of my entertaining and informative prose!
In the early nineties, a series of limited edition Santa Claus figures started popping up in upscale gift shops. These fine fellows were approximately 20" tall (or long depending on their position) with real fur lining their well constructed finery and silky beards made from Tibetan sheep hair.
Believe me, this was not Santa for a Vegan or Animal Rights Activist.
Their faces, all similar in style which made them very recognizable to collectors, was very simple in design and I believe they were composition if not bisque.
I'm saying "I believe" because I can find little information on these Santas. Even the ones listed on
eBay
and WorthPoint
Santa Carol Bouquet Enterprises Numbered Ltd Ed MIB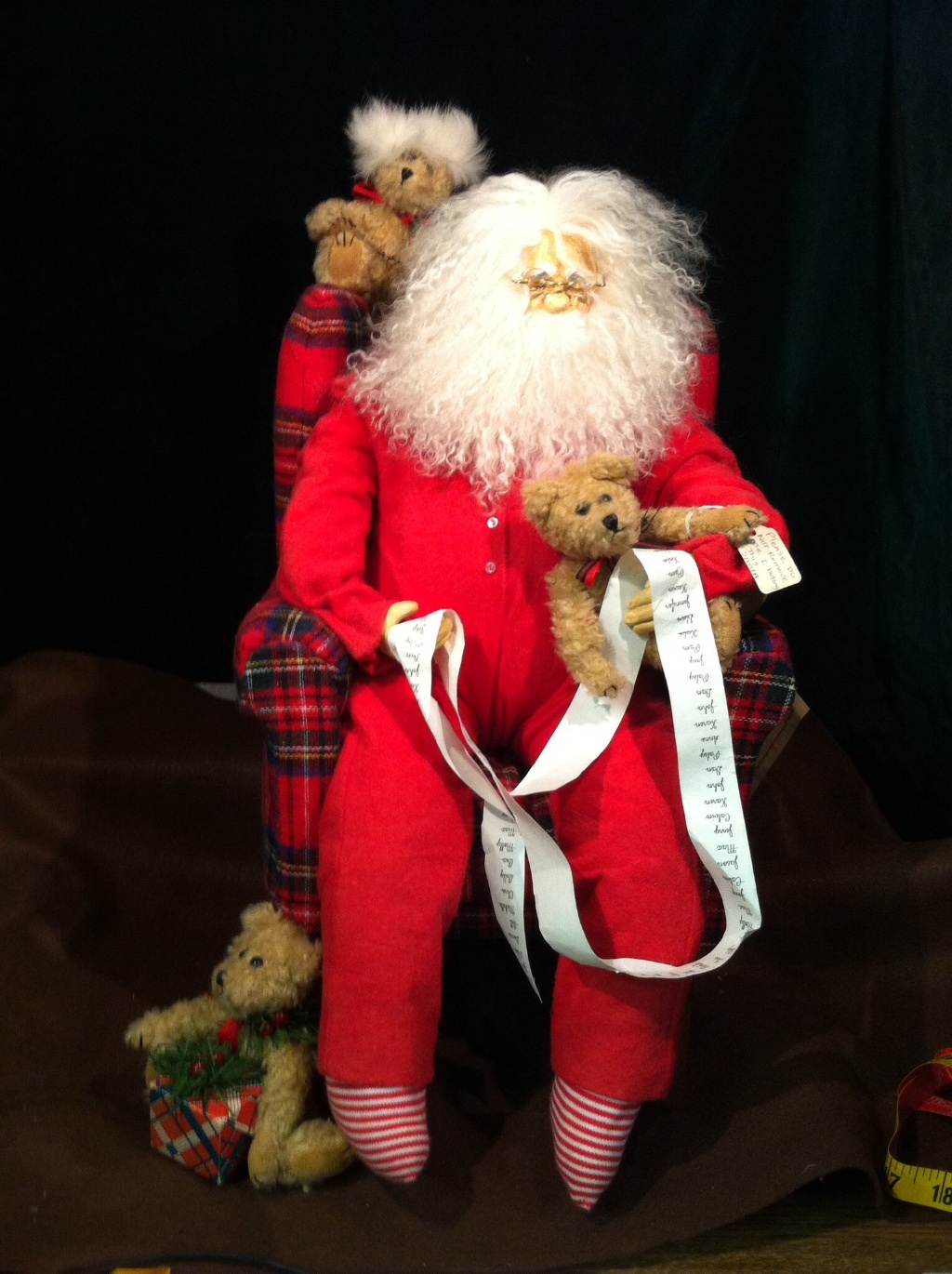 I recall seeing these Santas for my first time in Monroe, LA at a store named The Pllars which went out of business in the late nineties.
My mother picked up a couple during their going out of business sale and gave me one for Christmas. I seem to recall that even at %50 off, this Santa cost around $150-$165. Remember how I said that if someone gave me a Santa as a gift, it usually wasn't one of the styles that I collected AND I prefer Santa doing Santa-like things as in carrying toys and trees, etc.? Well, I think this one is definitely an exception.
Mine is tucked away in my Christmas closet, but the good news is that I borrowed this image from eBay. I seem to recall my Santa also having a coat that you could hang on the coat rack. Hmmmm
Oh, and I added a small vintage handmade paintbrush to my Santa that fits in his hand holding the paint pallet.
The bad news...the Santa in the photo sold on eBay for only $10. TEN BUCKS!!!!


If you've been perusing eBay lately for Santas, you'll find that even junky Santas (yeah...I said junky Santas) have starting bids set at twice this price! Of course, I don't know what the shipping costs were on this listing, but on a previous listing it was set at $18.72.
That is really sad.

As far as decorate Santas go, I think these pieces by Carol Bouquet Enterprises, Inc (Kellogg, MN) are rich with detail, come with interesting "accessories" and are worth WAY more than what they are going for on eBay. Which could be to a collectors advantage.

Currently there are several Timeless Collectible Santas by Carol Bouquet Enterprises, Inc. available on eBay.

Check them out now while the starting bids are still low, perhaps you can get a good deal so that when the word gets out about them, their popularity and their value will increase.
Happy Shopping!